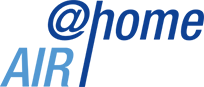 Acknowledgements
Maico Elektroapparate-Fabrik GmbH
Steinbeisstrasse 20
78056 Villingen-Schwenningen
Tel. for general office: +49 (0) 77 20 / 6 94 – 0
Fax for general office: +49 (0) 77 20 / 6 94 – 26 3
E-mail: info(at)maico.de
www.maico-ventilatoren.com
www.air.home.de

Freiburg registration court, register no. HRB 601233
Managing Director:
Dipl.-Volkswirt Gerhard C. C. Warnke
Jürgen Goldinger
VAT ID: DE142995250
Here is the link to our general terms and conditions of business Here is the link to information about our data protection
Copyright
The content of the "MAICO" and "Technikumdirekt" websites of MAICO Elektroapparate-Fabrik GmbH are protected by copyright. All rights are reserved. The reproduction, translation or use of content such as texts, images, graphics and animations in electronic systems, even in extract form, without the written approval of MAICO contravenes copyright protection and is therefore liable to prosecution.
If registered trademarks, trade names or common names are used, even if they are not indicated as such, the corresponding protection rules apply.
Disclaimer
All content is checked with care and updated on an ongoing basis. We cannot however guarantee that the content is complete, correct and fully up-to-date. MAICO cannot therefore be made liable for damages associated with use of this content. If access is provided to other information through links to other servers, MAICO states that the content on these servers is not checked in this respect and that there are no grounds for liability.
Information about all links on this homepage:
Through its ruling on 12 May 1998 - 312 O 85/98 - "Liability for links" the Hamburg district court determined that anyone providing a link to another homepage takes on shared responsibility for the content of this website. According to the district court, this can only be prevented by expressly distancing oneself from the content stored on this website. We therefore hereby distance ourselves from all content on all third-party websites to which we provide links.
Picture credits
Design and implementation: www.adrodev.de