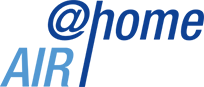 The principles of data protection at Maico Elektroapparate-Fabrik GmbH
§ 1 Preamble
Maico Elektroapparate-Fabrik GmbH (hereinafter referred to as "MAICO") is delighted that you have chosen to use our application and/or the associated app (hereinafter referred to as "air@home"). Protection of your personal data collected, processed and used during your use of air@home is important to us, as is ensuring that you feel secure when using air@home.
We only collect, process and use your data as specified by law, as prescribed for example in the German Data Protection Act (BDSG) or German Telemedia Act (TMG). air@home is in line with the data protection requirements. This grants you, the user, peace of mind that your personal rights and the right to informational self-determination are being observed and granted. The following declaration gives you explanatory information about how we handle your data.
§ 2 Data collection, processing and storage
When you register for air@home, personal data (surname, first name, e-mail address, postal address, phone number, password, token) are recorded so that we can improve our services and meet your requirements. The data is essential for ensuring functionality.
(2) In order to improve and guarantee the use of air@home, MAICO stores and uses unit-related data (unit parameters, measured values, configuration values, fault messages, unit serial numbers and the IP/MAC address of the smartphone / tablet).
(3) To ensure a very high standard of security, MAICO stores your personal data separately from the unit-related data. The data is transmitted in encrypted form, both between your smartphone / tablet and the MAICO server and between the MAICO server and controlled domestic ventilation unit (double security). This is done using AES-256 encryption.
(4) Air@home also provides a link allowing you to visit the MAICO website or MAICO Facebook page. Please note the data protection declaration relating to this on the relevant web pages.
(5) In order to make use of certain functions and to improve the appeal of its Internet pages, MAICO uses so-called cookies. These are text files that are stored on your computer. Most of the cookies used by MAICO are deleted from your hard drive at the end of the browser session (so-called session cookies). Other cookies remain on your smartphone / tablet and enable MAICO to recognise your smartphone / tablet the next time you visit us (so-called persistent cookies). You can however modify your browser settings so that you are informed when cookies are sent, allowing you to decide on a case-to-case basis whether to accept them or not or you can generally exclude the acceptance of cookies. However the non-acceptance of cookies may restrict the full functionality of air@home.
§ 3 Dissemination of person-related data
Your personal data is treated with confidentiality at all times. Your personal data will not be disseminated, sold or passed on in any other way to third parties unless MAICO is obliged by law or a court ruling to do so or if such action is needed for prosecution or law enforcement should MAICO's IT infrastructure be attacked. MAICO will only use your personal data for marketing purposes if you have agreed to this.
§ 4 air@home and the different user profiles
air@home allows the owner to create user profiles to grant different groups of people different access rights to the unit. Depending on whether you are an owner, user or tradesperson using air@home, your data may differ from that stated under § 2 Data collection, processing and storage:
(1) Owner: as described above, only the owner can decide to create user profiles and who is provided with the unit-related data. If you are both an owner and user, the information provided below for "User" applies to you too.
Note: any other users of the ventilation system should be informed by the owner of the possibilities available with air@home and the associated data protection conditions. The owner must not use the app without the agreement of the user.
(2) User: the owner may create other users with their own personal data. If the owner has created another user, the owner is no longer able to control the ventilation system using air@home. The user is then solely responsible for this. However, the owner receives service and error messages for all his or her users and can assign the corresponding system(s) to them. The owner does not, however, have access to the latest measured values or trends.
As a user, please note that tradespersons/installers created by the owner may access your unit-related data and be able to control the units in certain scenarios (installation, maintenance etc.). The latest measured values can also be viewed, but trends cannot. You can be both an owner and user.
(3) Tradesperson / installer: the owner can create profiles for tradespersons/installers for maintenance and service work by providing personal data. These people can see the same data as the users.
(4) Managing and deleting profiles (e.g. change in user)
As described above, the owner manages the individual profiles. The owner is also responsible for deleting individual profiles. When a profile is deleted, the personal data is deleted too. The unit data and trends are retained. Once a tradesperson/installer has completed his or her work, authorisation to view and/or intervene on/in the ventilation system should be withdrawn by the owner.
Unit-related data is only deleted if this is explicitly requested (see §6).
§ 5 Safety instructions
MAICO takes all the necessary technical and organisational security measures to store your personal data such that it is not accessible to either third parties or the general public. If you contact us by e-mail, we would advise you that we cannot ensure the confidentiality of any information provided. Third parties may access the content of e-mails. We would therefore advise you to send us confidential information exclusively by post.
The security is state-of-the-art.
§ 6 Right to information, cancellation and deletion
You are entitled to request MAICO to provide information about your stored data free of charge as well as a right to request rectification, refusal of access or deletion of your data where appropriate. Please contact the data protection manager in this respect.
§6 Data protection manager
In the event of questions regarding the collection, processing or use of your person-related data and for information, rectification, refusal of access or deletion of data and the revocation of consents granted, please contact:

Maico Elektroapparate-Fabrik GmbH Mr. Harald Bantle
Steinbeisstr. 20
D - 78056 Villingen-Schwenningen
Phone: +49 7720/ 694-273
Fax: +49 7720/ 694-320
E-mail: Harald.Bantle(at)maico.de
Version: 07/05/2015